Why Choose AndroSkill
Erectile Dysfunction Treatment to Restore & Revitalize Your Confidence
Adipose-derived stem cells are the best natural choice to treat your erectile dysfunction.
Adipose-derived stem cell treatment is regarded as the new successful therapy for the treatment of erectile dysfunction due to many advantages:
Safety
Mesenchymal stem cell therapy is a tolerable, safe, and efficient treatment for erectile dysfunction.
Neuroregeneration
Mesenchymal stem cells exert neuroregenerative effects, overcoming oral medications need for undamaged erection nerves.
Complementarity
Mesenchymal stem cell therapy can be combined with other approaches to promote the growth of new blood vessels and reduce cell destruction.
Simplicity
There are many autologous sources of mesenchymal stem cells, which are easy to isolate and expand.
Rapidity
Only 20 cc of fat are required; they are collected during a quick and painless outpatient procedure.
Cryopreservation
Mesenchymal stem cells not immediately utilized can be frozen and cryopreserved for future treatment.
In addition to using adipose-derived stem cells for treatment of erectile dysfunction, there are several other kinds of andrological disorders that can benefit from stem cell therapy, including the reconstruction of penile tissue, and the enlargement of the penis. Another potential application of adipose-derived stem cells is in steroid hormone therapy.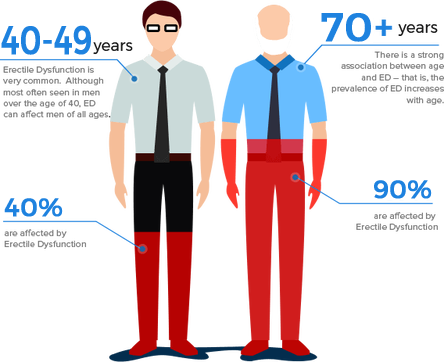 About Erectile Dysfunction
Characteristics
Erectile dysfunction is one of the most frequently reported medical condition in men. Defined as the chronic inability to achieve or sustain the erection, its prevalence varies across age group.
In general, 35% ca of men aged 60 and 50% ca of men older than 70 is affected by such a dysfunction; more in particular, in Asian samples its prevalence appears to increase in a linear way, with half of all men reporting some level of male dysfunction by age 50.

More information
Symptoms Erectile Dysfunction
Do not being able to get an erection every time that it is desired;
Do not having erection lasting long enough for an intercourse;
Do not being able to get an erection at any time.
To diagnose and effectively manage erection problems clinicians analyze men sexual, medical, and psychosocial history. In particular, physical examination should concentrate on genitourinary, vascular, and neurologic system.
Learn more
Risk Factors
Unhealthy living is associated with increased risk of erectile dysfunction.
Learn more
Causes
Erectile function is the result of a complex interplay between physiological and psychological factors.
Learn more
Stem cell-based Therapy
The new natural treatment of erectile dysfunction
Stem cell therapy for the treatment of erectile dysfunction consists in the injection of mesenchymal stem cells, a type of stem cells capable of self-renewal and of differentiating into multiple cell types.
Our Numbers
Our Centers of Genomics and Regenerative Medicine are based in Europe (Rome, Milan and San Marino) and Middle East (Dubai). We offer the most advanced personalized expanded adipose-derived stem cell therapies and Next Generation Sequencing genomic tests for solid cancer risk management. The premium service in Regenerative Medicine include cryopreservation and expansion of stem cells for personalized anti-aging treatments, aesthetic plastic surgery, hair regeneration and wound care.
specialists (e.g. gynecologists) who rely on our services
years of expertise in Genomics and Regenerative Medicine
our stem cell factories located in the World
scientific papers on personalized autologous cell therapies
Information Request
Request now a free consultation
Fill-in the form below in order to be contacted  by one of our biologists.